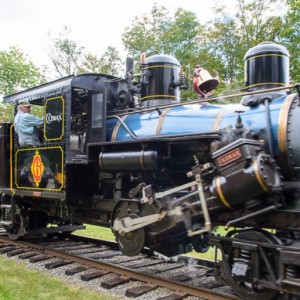 The WMCRR is part of the Clark's Trading Post theme park.
Last train ride for the season was on October 9th, we will re-open in May 2018.
Our extremely rare Steam Logging Locomotive has powered trains throughout 2017 – see photo.
Please be sure to check the schedule to ensure when trains will be running.
Theme park Admission includes Main Attractions including

Steam Train Ride with Wolfman adventure
New Anaconda Escape high speed Water Slide
Trained Bear Show
Segway park
Climbing Tower
Blaster Boats

Additional Cost for:

Awesome Ice Cream Parlor
High speed off-road Segway Safari
Craft shops and Candle Making
Snack Bars.

Our Railroad is located in the family owned Clark's Trading Post theme park.
We are located on US Route 3 in Lincoln NH just off I-93.
Tickets can be purchased at our railroad station which also acts as the park entrance.
Our Engineer-for-the-Day program will be available again in 2017.

Keep up with the LATEST NEWS on Facebook- UPDATED WEEKLY.